How To Monitor The TV & Web Content Your Kids Are Viewing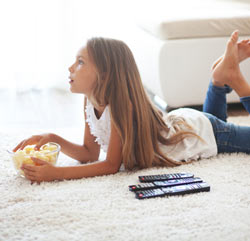 Television programs and websites are loaded with content of all types, some of which is inappropriate for your children. But with so many other tasks on your plate, it isn't always possible to monitor what they're viewing. Thanks to parental controls, you can shield your children from select programs and websites. Take a moment to understand television ratings, how parental controls work and the implementation options available.
TV Ratings
According to the Federal Communications Commission, the following ratings are assigned to television programming:
TV-Y: Directed to All Children (specific to children's shows and mostly suitable for children ages two to six)
TV-Y7: Directed to Older Children (specific to children's shows and mostly suitable for children ages seven and up)
TV-Y7-FV: Directed to Older Children-Fantasy Violence
TV-G: General Audiences (suitable for all ages)
TV-PG: Parental Guidance Suggested (may not be suitable for young children). The rating may also be coupled with a V, S, L, or D, which represent violence, sexual situations, language, or suggestive dialogue, respectively.
TV-14: Parents Strongly Cautioned (may not be suitable for children under 14). The rating may also be coupled with a V, S, L, or D (as mentioned above).
TV-MA: Mature Audience Only (may not be suitable for children under 17 and also contains a V, S, L, and/or D).
The TV ratings for a particular program can be found in the listings, during the first 15 seconds of a show and immediately following commercial breaks. It's also important to note that news programs, sporting events and unedited movies on premium cable channels are not assigned a particular rating.
Built-in Controls
V-chip: The V-chip, which is installed in televisions 13 inches or larger and manufactured after December 31, 1999, enables you to block programming that you deem inappropriate.
Cable and Satellite Boxes: If you have a cable set-top box in your home, there are a plethora of parental control options available. Not only are you able to block channels and programs with a particular rating, you can also conceal titles that are for adult audiences, notes the Cable Impacts Foundation. Parents also have the ability to record approved shows on DVR devices such as the Hopper from Dish, so they know exactly what their kids are watching.
Online Software: Among the features offered by a bulk of internet providers for parental controls are multiple user profiles, filtering options, time limits, supervised chat, and reporting capabilities.
For Little Eyes Only
To find educational programming for younger children in your household, use the KidVid tool provided by the FCC as it provides a comprehensive listing of channels, schedules, and websites in your area.
Are Parental Controls Worth It?
While some children and parents may feel activating parental controls demonstrates a lack of trust, one must dig a bit deeper to identify the real significance. For television, it's a matter of guarding your children from content that could be more than they're ready to handle.
As for the internet, safety should be at the forefront of your concerns. "A lot of parents get that wrong and think their child needs privacy. Well, the internet is not private, and the world is watching," says Nicki Klinkhamer from TrueCare.com, a social media monitoring tool.
You have a duty to set boundaries regarding what your children are allowed to watch on television or access on the web, but it's also your responsibility to ensure they're not exposed to inappropriate material or put in harm's way. Simply put, while you don't want to be overbearing, it's better to be safe and proactive than sorry when it's too late.