Totally Hooked: 3 Tips for Taking Your Kids on Their First Fishing Trip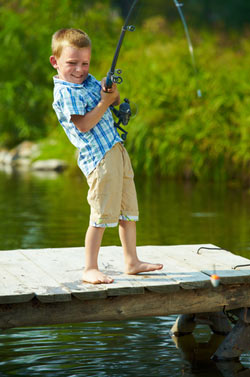 It can be hard raising kids in this big, noisy world. There are so many distractions and so few opportunities for a little peace and quiet where you can simply be together as a family. However, it's still possible to disconnect from the hustle and clutter of day-to-day life and reconnect with your children in a meaningful way. Why not load the fishing rods and tackle boxes in the car and head to your favorite fishing hole? A family fishing trip has so much to offer. Not only can it take you miles away from the nearest Internet connection or charging dock, but fishing is also a chance to teach your children the value of patience and a little downtime. They might even discover that they actually enjoy it. Here are just a few tips for planning your next family fishing excursion so that everyone is hooked.
Be Prepared
The most important part of any fishing trip is proper planning. You don't want to lead your family a mile into the woods only to realize that you've forgotten to buy fishing licenses for everyone. In addition to being the law, a fishing license also serves another purpose. It lets your kids know that they are "officially" fisherman. It's a souvenir that they'll always have to remember the trip by. You also want to make sure that all of your gear is ready to go before you arrive at your location. The last thing you want to do is kill your kids' excitement by making them wait around for you to untangle the lines and string the hooks. Don't forget drinks and snacks to keep everyone happy. And you definitely want to bring a camera so you can capture their first catch or your first time falling into the water.
Take It Easy
Lifelong fisherman will tell you that fishing takes a minute to learn and a lifetime to master. If it's your kids' first time, you want to make the whole process as simple as possible. Choose a location with calm waters and a deep fishing hole that's free of rocks. It's unlikely that either of you will have much fun if their line keeps getting snagged. You might even consider cane pole fishing off of a dock. Cane poles don't have a reel so your child can focus on learning to cast and watching the bobber. And since it's their first time, you probably want to do whatever you can to make sure they catch a fish. Try to get out there as early as possible and try to find a spot that stocks bluegill and crappie, which bite often and don't put up too much of a fight.
Keep It Short
It's probably in your best interest to keep the first trip to a few hours. Although you might have the patience and desire to stay out there for hours (or days) on end, it's unlikely that your kids will feel the same way their first time. And don't worry too much if they spend some of their time wandering around, climbing trees or any other activity that isn't fishing. Remember that every minute spent interacting with nature is a minute spent not starting at a cell phone screen. And don't think that their initial disinterest means that they will never enjoy fishing. Fishing is a hobby that tends to develop over time. You're simply trying to plant the seed that grows into a life full of fishing trips.