Build Your Best Bod' With A Vegan Diet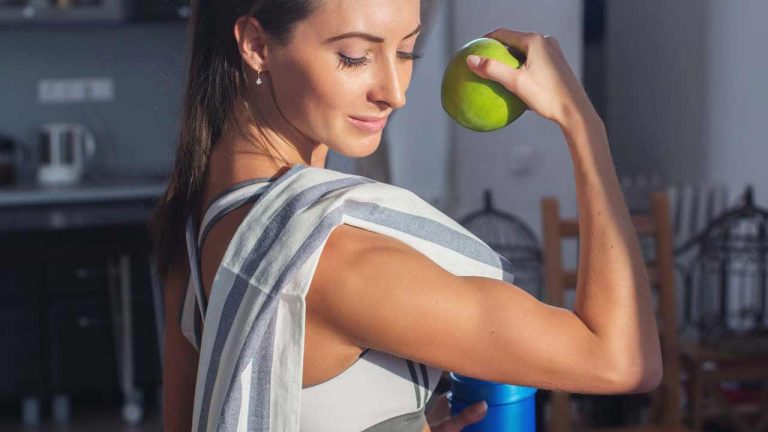 Working out at the gym, running, cycling or even dancing can help shape your physique enormously. While being active and fit is highly beneficial, the results you're looking for can be hindered if your diet is filled with too much sugar, animal products and alcohol.
According to BreakingMuscle.com, it is absolutely possible to build muscle mass by only consuming a plant-based diet. NFL star Griff Whalen, who, after transitioning to a vegan diet a few years ago, stated that such a diet provides an "extra edge" for sporting athletes. Venus and Serena Williams, both heavyweight superstars in the tennis world, switched to a vegan diet back in 2011. The results speak for themselves!
Look to nature for comparisons and strong evidence that a veggie diet can build muscle mass and strength. The really big, powerful herbivores such as horses, gorillas, rhinos, oxen and elephants,demonstrate that consuming animal protein is not essential for size or bulk.
Where To Start
Simply put, the focus should be on protein. If you need to lose fat and, most importantly, build muscle, protein is absolutely essential in your diet. So where do you begin if you are not eating red meat, poultry, fish or eggs? Protein is available in the plant-based world. These are all good sources:
Vegetables
Avocado
Spinach
Broccoli
Kale
Brussel Sprouts
Sweet Potato
Peas
Organic Corn (Non-GMO)
Grains (Cooked)
Brown Rice
Wheat Germ
Bulgur
Quinoa
Oat Bran
Amaranth
Barley
Buckwheat
Cracked wheat
Rye
Wheat
Non-Dairy Milk
Rice Milk
Coconut
Soy
Hemp Almond
Nuts & Seeds
Walnuts
Pistachios
Cashews
Sesame Seeds
Almonds
Brazil nuts
Peans
Hazelnuts (Filberts)
Chia
Pumpkin
Squash
Nut Butters (Peanut, Cashew, Sunflower Seed and Almond Butter)
Legumes
Beans – Pinto, Kidney, Black Beans, Lima, Navy
Lentils
Soybeans
Garbanzo Beans/Chickpeas and Hummus
Peas
Black-eyed peas (Cow-peas)
Peanuts
You can eat these protein derivatives separately, but the art of enjoying a plant-based diet is combining ingredients together, to make sure you are enjoying tasty meals.
Sample Meals:
Starter: Hummus with Cucumber, Carrots and Celery Sticks.
Ingredients:
3 tablespoons extra-virgin olive oil
1½ tablespoons lemon juice
1 small chopped clove of garlic
1 teaspoon salt
½ teaspoon finely ground black pepper
3 tablespoons tahini (as an option)
15 ounce (425 grams) can chickpeas
Cucumbers
Carrots
Celery
Directions:
Combine the chickpeas, olive oil, tahini, lemon juice, garlic, salt, and pepper in the food processor or blender.
Blend hummus until very smooth 1-2 minutes
Serve with cucumber, carrot and celery sticks.
Soup: Miso Soup
Ingredients:
4 cups water
¼ cup tofu
1 sheet seaweed/nori
3-4 tablespoons white miso paste without bonito (unless you can find vegan friendly bonito)
Soy sauce (optional, if you need to make it saltier)
Directions:
Place water in a medium saucepan and bring to a low simmer.
Add nori and simmer for 5-7 minutes.
In the meantime, place 3 tbsp of miso into a small bowl, add a little hot water and whisk until smooth. Then add to the soup and stir. …
Add the tofu and cook for another 5 minutes or so.
Add Soy Sauce if so desired.
Main: Quinoa Salad
Ingredients:
1 cup quinoa
Extra virgin olive oil
1 cup brown lentils
1 cube vegetable stock
1 cup kale
1 big sweet potato
1 cup tofu
2 avocadoes
Red pepper
Broccoli
Cashew nuts
Sunflower seeds
Pink himalayan sea salt
Lemon
Directions:
Cook 1 cup quinoa with 2 cups water. Bring to a boil. Reduce heat to low, cover and simmer until tender and most of the liquid has been absorbed, 15-20 minutes. Fluff with a fork. Add a pinch of pink Himalayan Sea Salt.
Cook 1 cup lentils on a stovetop, using 3 cups of water with added vegetable stock. Be sure to use a large enough saucepan as the lentils will double or triple in size. Bring to a boil, cover tightly, reduce heat and simmer until they are tender. For whole lentils, cook time is typically 15-20 minutes. Add lentils to quinoa.
Peel the sweet potato, cut into cubes, add salt and extra virgin olive oil and cook in oven for 30 minutes at 350 degrees F (180 degrees C). Add to quinoa.
Cut up 1 cup raw tofu and add to the salad.
Slice up the avocado into cubes, add salt and lemon juice to it and add to salad.
Cut up 1 red pepper into cubes and add.
Cut broccoli into florets and steam for 15 minutes. Add to salad.
Preheat oven to 300 degrees F (150 degrees C) and cook kale for 15 minutes until crispy. Add a little dash of salt and add to quinoa.
Decorate with cashew nuts and sunflower seeds.
Add 1 tablespoon of extra virgin olive oil, lemon juice and a big pinch of salt.
Dessert: Pina Colada Banana Boats
Ingredients:
1 14 ounce can (414 ml) coconut cream or full fat coconut milk
1/4 – 3/4 cup (28 – 84g) icing/powdered sugar (use organic to ensure vegan friendliness)
1/2 tsp vanilla extract (optional)
Tapioca flour
2 glazed cherries (optional)
1 kiwi (optional)
2 slices pineapple cubed.
Directions:
Chill your coconut cream or coconut milk in the refrigerator overnight, being sure not to shake or tip the can to encourage separation of the cream and liquid.
The next day, chill a large mixing bowl 10 minutes before whipping.
Remove the coconut cream or milk from the fridge without tipping or shaking and remove the lid. Scrape out the top, thickened cream and leave the liquid behind (reserve for use in smoothies). Note: If your coconut milk dosn't harden, try to salvage it with a bit of tapioca flour – 1 to 4 tbsp – during the whipping process.
Place hardened cream in your chilled mixing bowl. Beat for 30 seconds with a mixer until creamy. Then add vanilla (optional) and powdered sugar and mix until creamy and smooth – about 1 minute. Taste and adjust sweetness as needed.
Use immediately or refrigerate – it will harden and set in the fridge the longer it's chilled. Will keep for up to 1 – 2 weeks!
Cut up a banana into two long "boats" (slices)
Add coconut whipped cream to boats.
Add the cubed pineapple.
Add 2 glazed cherries or 1 sliced, fresh kiwi (optional).
As you can see, switching to a plant based diet can be a delicious exploration. All you need is some creative imagination. You can make delicious meals and build muscle while you are at it!
Source: Mommy Authority