How to Host an At-Home Spa Night for Moms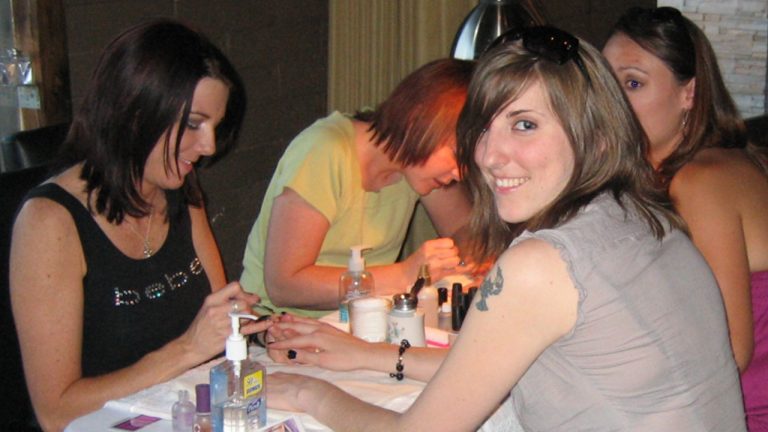 When was the last time you and the other moms took a day to pamper yourself? If it's taken you more than 10 seconds to think about the answer, than it clearly hasn't been recent enough. In the midst of work, the kids and oh, yeah, life, juggling and balancing everyone and everything takes a toll. Well mama, it's time to change that and take time-out to focus on yourself for once. Here's how to host a much deserved, at-home spa night for you and the other moms that have been so hard at work.
What Your Guests Should Bring
Whether you're inviting guests via email invite, snail mail, call or text message, inform them of what to bring to help make this very special night run very smoothly. All ladies should come prepare with their own towels, robes and open-toed slippers
Prepping for Spa Night
First things first, get the kids out of the house. Be it sending them to the movies for a double feature or having dad take them to the baseball game, make sure the house is kid-free to ensure proper and full relaxation time. Designate larger areas of the house for various stations of spa night and clear them out to make room for the party. One obvious area would be the bathroom since it has easy access to a faucet and a tub—clean and tidy it up in preparation. Also stock the fridge and wine cabinet with snacks, waters and of course, wine. Spa day is about taking the edge off and what mom doesn't want to kick back with a glass of vino?
Manicure Station
If you've got an office space with a desk or two, or even the kid's room where they do their homework, convert those desks into little DIY manicure stations. You'll need nail polish remover, cotton balls, nail file, buffing block, orange wood stick, cuticle oil, moisturizer and of course, nail polish. Channel your grade school days where you used to paint each other's nails and bring your best nail painting skills to the table!
Facial Station
Getting a facial is something that has probably been on the back burner for who knows how long. Use this spa night to finally treat your face the way it deserves to be treated. You can set this up in the kitchen and hang a long, stand-alone mirror horizontally for all the ladies to apply facial products and hang out as they sip their wine and wait. To give it a professional spa feel, try out Amway's Artistry Essentials moisture intense masque. It'll make everyone's skin feel buttery soft and restore ultimate moisture.
Pedicure Station
The bathtub would be a good area to set up a pedicure station. Or if you're hosting a lot of moms, try filling up individual smaller buckets with warm water and feet soak solution. The OPI Manicure Pedicure Tropical Citrus Soak is a go-to and will soothe, soften and invigorate your feet. Not to mention, the coconut and lime aromas immerse you in an island state of mind which embodies relaxation. As for who's doing the actual pedicures, we all know the toes and callouses can be tricky so if you can shake it, try calling a local nail salon to see if any of their nail technicians can work remotely for the night.
Massage Station 
Set up a massage station to round out spa night. Hire two to three masseuses to stop on by to get premium massages for everyone. You can order this at-home service through apps like Zeel that send licensed massage therapists directly to your house so you can be in the comfort of a home while also getting all those knots worked on and out.
Even the best mom needs to destress from time to time. Hosting an at-home spa night is simple and much appreciated by any mom. Pamper yourselves with a night that focuses on you and treats you and the other moms to all the hard work you do.
About the Author: Jennifer Thayer is a technology writer from Southern California. She is passionate about exploring new ways technology can be used to make day-to-day tasks easier. Follow her on Twitter

Photo Credit: Remi Taylor