The Drink Guide for Mom's Night off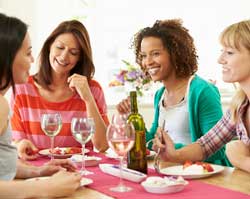 Take advantage of your night off and hit the town with your husband or friends. Since free nights are a rare commodity, it's likely been a while since you've been in the bar scene. There are new and classic drinks that are out there for your enjoyment. Make sure you take full advantage of this recreational opportunity and enter the evening with some basic knowledge on beer, wine, and cocktails.
Girls Night Out
The Cosmopolitan cocktail, made famous by the television series "Sex and The City," is a standby ladies night drink. This drink combines vodka, triple sec, cranberry juice and freshly squeezed lime. Spread your wings a bit wider, when out with your girlfriends, and try a new, yet similar drink. The Moscow Mule, is a reemerging, hip drink. It is made with vodka, ginger beer and lime, and served in a copper mug over ice. It is similar to the Cosmopolitan with its base spirit of vodka, hint of citrus and overall bright flavor profile.
Classic Cocktail Hour
Put on your chic little black dress and sip away on a timeless, classic cocktail. A martini is a simple drink for those who enjoy the nuanced taste notes of vodka or gin. For clean and bright martini, choose vodka and have it served with a lemon twist. For a more flavorful variety, specify that you'd like the martini "dirty", which will include a dash of olive juice and an olive garnish. When you order, specify the brand you'd like. If you're unsure, chat with your bartender about the flavor profiles of each brand and they can help you find the one that suits your preferences.
Exotic Experience
Tiki drinks are bold in flavor and presentation. This is the ideal cocktail for a night when you want to let loose with your friends. Many tiki drinks, like the Volcano Bowl cocktail, are served in ornate, ceramic vessels and are partially lit on fire. Tiki drinks are packed with tropical flavors and spirits, like rum, fresh juices, liqueurs, bitters, spices or fruit accents. The drinks are served with a cornucopia of fruit garnishes. Visit the website of Tiki-Ti, Los Angeles' famous tiki bar, for a look at the 94 tiki drinks they offer on their menu.
Laid-back Night
It can be fun to get dressed up and indulge in fancy delights, though sometimes a casual evening is equally enjoyable. Take your husband out for a night of beer and sports. Head to your local tavern and enjoy some beer together. Make the evening more adventurous and deviate from your standard brews. Try a new beer, like the Guinness Nitro IPA, which is velvety smooth and full of barley, hops and citrus flavors. It will be fun for you and your husband to exchange your opinions about the new beers you try. Make this activity into a hobby and keep a beer tasting journal that you can fill out together.
Sophisticated Fun
Wine bars are the ultimate destination for those who seek a chic and sophisticated time. Wine bars are great for dates with the gals or for an intimate evening with your husband. Find a wine bar that offers flights, based on region, and you can fashion your evening around the particular region. For example, if you'll be drinking French wines, dress up in black-and-white Parisian stripes and play Edith Piaf in the car ride over. For New Zealand wines you can playfully enjoy the Lord of the Rings soundtrack and wear your favorite shearling apparel pieces or accessories. A theme can liven up and enhance the fun of the evening.