The Game for Kids Rewarding Good Deeds and Positivity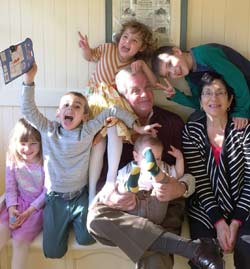 by MarySue Hansell, A Better World
I'm an Entrepreneur and a Businesswoman, but the titles I'm most proud of are Mom and Grandmom —Mom to three grown successful children and MeeMee to five adorable grandkids.
Like most Moms, I'm very concerned about how today's fast-paced world is affecting all of us, especially our kids. We're all worried about the lack of kindness displayed on the Internet, in the schoolyards, and on the playgrounds. You hear so much about bullying with teens and younger kids. We all get exposed to too much violence, especially on TV and even in games. Our children are also used to getting so much more than we ever did, and so we find ourselves wondering how do we teach kids today how to be grateful for what they have and learn how to give to others.
How can we as adults reflect positive values to our children and show them ways to be kind, be grateful, and help others? What's a good way to teach positive values that avoids in-one-ear-out-the-other lecturing, that will get their attention and maybe even be fun?
Well this is the challenge my husband Ray, son Gregory, and I tackled. We wanted a new way to give back and make a difference in the world by addressing these problems so we put our heads together and brainstormed a solution.
My husband and I both had strong entrepreneurial and business backgrounds and a history of donating to charitable organizations. Our son Gregory had an unusual blend of talents, working for years in educational non-profits with graduate degrees in the liberal arts, as well as having deep experience in information technology on Wall Street and elsewhere. All three of us were impressed with the new research from Positive Psychology that revealed that doing good and being grateful improves your well-being, and wanted to incorporate these principles in our product.
Several months and lots of hard work later we had built A Better World, a game on Facebook "Where All Good Deeds Are Rewarded and Real World Causes are Supported!" It's been played by more than 4 million people who have done over 40 million acts of kindness in game and in real life.
A Better World is a game where you Do Good, Feel Good, and Have Fun! We harness the immersive, imaginative, and interactive power of games and use it to encourage and champion values like altruism, positivity, and charity, among others. Players express gratitude, send get well notes to sick children, share hopes and dreams, do acts of kindness, and more. The more good players do in the game, the more Do-Good Gold and Positive Points they gain, which lets them customize their virtual world. Players can dress up and accessorize their avatars, decorate their homes, care for and play with pets, play arcade games, and much more with their rewards.
Every month our players get challenged with completing 250,000 good deeds. When this goal is met, we release funds to a monthly charity partner. We've helped over 20 charities so far, including:
– Operation Warm: Winter coats for kids in need
– Miracle Foundation: Fresh food and water for orphans in India
– Cure international: Surgeries so kids can walk for first time
– YMCA: Summer camp for disadvantaged kids
Probably one of my favorite things about A Better World is we've found that Moms, Grandmoms, and kids play together. What a wonderful and fun way to spend time together and make the world a better place!
About: A Better World is a free Facebook game that bridges the gap between the virtual and actual world by allowing people to contribute to real causes. They call this CauseGaming. Through good deeds and positivity players are rewarded and encouraged to support real world causes. To date over 2.5 million players have performed over 14 million good deeds.
Check us out at Facebook.com/ABetterWorld