Tips For Protecting Your Family From Recalled Items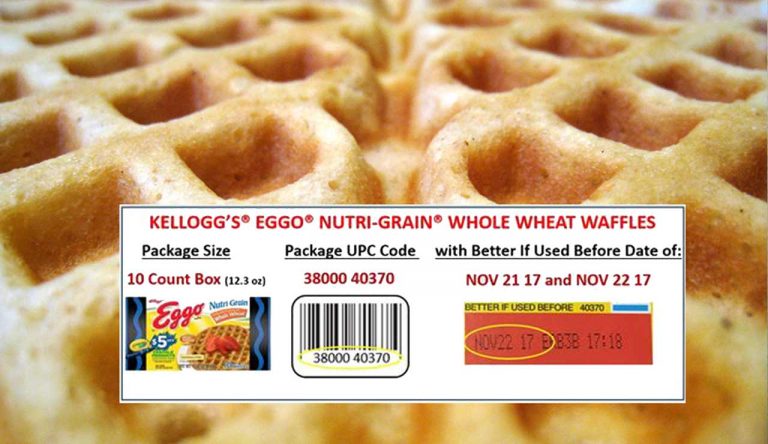 You may have noticed all the recalls in the news lately, from smartphones to washing machines and even waffles! With all the recalls, you may be concerned about keeping your family safe, especially since not all recalls make headline news. So how do you find out what products are recalled? It's actually easier than it sounds. We've highlighted some of the recent major recalls to help you through the process, and have included tips on ways to protect your family from future recalls.
Samsung Galaxy Note7 Devices
One of the biggest recalls in recent news has been that of the Samsung Galaxy Note7. The recall stems from faulty lithium-ion batteries, which pose a risk of overheating, leading to reports of fires, explosions, and burns. If you have a Galaxy Note7, you may be wondering if your phone was included in the recall and what to do if it was. The recall only applies to phones sold before September 15, 2016.
You can easily check your phone's IMEI, or serial number, through Samsung to determine if your phone was included in the recall. If it was, Samsung advises consumers to turn off their phones and contact their cellular carrier, or retailer where the phone was purchased, in order to exchange their phone or obtain a refund. Each carrier and retailer has established their own policy for handling the recall ,so it is important to contact them directly to find out your next step. For example, T-Mobile is making the process easy by allowing their customers to exchange their Galaxy Note7 device for free at any T-Mobile store location, even if they purchased their device online or over the phone.
Mazda Vehicles
Another major recall impacting many families is Mazda's recall of more than 2.3 million vehicles. The recall applies to 2015 to 2016 Mazda 3 vehicles due to a faulty fuel shut-off valve, which can allow fuel to leak, increasing the risk of engine fire or stalling. Also included in Mazda's recall are the 2006 to 2012 CX-7 SUV for steering malfunctions, and the Mazda 3 sedan and CX-3 SUV for computer problems.
Vehicle Airbags
In addition to Mazda's massive recall, well over a dozen car manufacturers have recalled their vehicles due to issues with the Takata airbag. The Takata airbag recall is a result of faulty airbag inflators, which can cause metal shards from the airbag housing to shoot from the airbag in the event of deployment, and has led to 10 deaths and more than 100 injuries in the United States alone. The recall has affected cars built around 2001 to 2015 from just about every major manufacturer, including Honda, Mazda, Toyota, Ford, and BMW. To find out if your car was included in the Takata recall or Mazda recall, you can contact your car's manufacturer or local dealership. You can also input your car's VIN number on the National Traffic Highway and Safety Administration website. If your car was included, you must contact your car's manufacturer or dealership to schedule a repair.z
GE Washing Machines
Even washing machines aren't safe from recalls. On September 15, GE announced the recall of its GE Profile high efficiency top-load washer units sold between June 2003 and October 2011 due to a risk of fire. Fortunately, there have been no reports of fire injuries from the recalled machine, but don't let your family become the first. You can check if your washing machine was included in the recall by entering your machine's model and serial number on the GE website. If it was recalled, GE has advised consumers to unplug the washing machine and stop using it until the machine is repaired. You can schedule a free in-home repair directly through GE.
Samsung Washing Machines
In addition to GE's recall of washing machines, Samsung is now recalling several of their products as well. On September 28, the CPSC said it is actively working with Samsung to recall 11 different models of top-loading washing machines that were made between March 2011 and April 2016. There have been incidents of exploding watching machines in several different states thus far. Consumers are being told to only use the delicate cycle when washing bulky items, such as bedding, and water-resistant items. There is no immediate solution to the problem, consumers are encouraged to contact Samsung for more information.
Eggo Waffles
Food recalls are important for families to pay attention to. Kellog recently recalled about 10,000 cases of Eggo Waffles for listeria contamination concerns. These waffles were sold in more than 25 states and applies to waffles with a use by date of November 21, 2017 and November 22, 2017. Although no reports of illness have been received, Kellog is erring on the side of caution as listeria can cause serious infections in children and can cause miscarriages in pregnant women. Kellog has advised consumers who purchased the affected waffles to dispose of them and call Kellog's customer service or contact them contact them directly for a full refund.
Be Proactive About Recalls
You don't have to wait for recalls to show up in the news (sometimes they don't) in order to protect your family. The United States Consumer Product Safety Commission ("CPSC") regularly reports recalls and is a great resource for becoming informed about current recalls. Through the CPSC, you can browse lists of recalled items or search for specific products. Keep updated on food recalls, and prevent your family from becoming sick, by checking the U.S. Food and Drug Administration's ("FDA") website, where recalled foods are listed along with contact information for each product. Another way to be proactive and keep abreast of recalls is to register your products when available, especially child and infant items. Registering items provides companies with your name, contact information, product model, and serial number, allowing you to be contacted in the event of a recall.
There are so many things to consider when raising a family, recalled products should be the least of your concerns. With just a quick check of the CPSC and FDA's recall lists, you can find out about recalls as soon as they happen and keep your family safe from faulty products or contaminated food. And always remember, when in doubt about a product, you can reach out directly to the manufacturer's customer service to voice concerns or request product information. It'll be worth the peace of mind.
About the Author: Jennifer Thayer is a technology writer from Southern California. She is passionate about exploring new ways technology can be used to make day-to-day tasks easier. Follow her on Twitter