Tips for hosting a Stress-Free Labor Day Party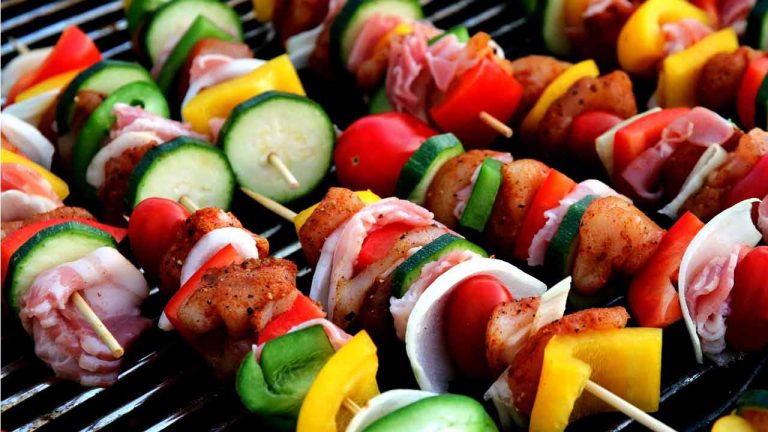 This year, Labor Day arrives on Monday, September 4th, which means you are quickly running out of time to plan that party you had intended to throw. But fret not, because with just a little bit of forethought, you can host a stress-free Labor Day party that will be enjoyed by all. Pay careful attention to the various items outlined below, and you can't go wrong. Wrap up the end of summer with a bang, and enjoy!
Planning, Logistics & Invites
Labor Day is roughly two weeks away, so you should start planning your party NOW. Determine what your menu is going to be (remember to consider your guests' dietary restrictions and eating habits; be sure to include something for everyone), get your grocery shopping out of the way early, and start putting together an invite list. You can then set a time and place, and start sending out the invitations – by Evite, Facebook, text message, or simply a good old fashioned phone call. Really, whatever method suits you best should work just fine. Once your planning and logistics are out of the way, you can focus on the main event: the party!
Grilling, Cooking, Beverages & More
When the day arrives, don't blunder the entire event with easily avoidable, rookie grilling mistakes. Prepare your ingredients in advance, ensure that you have plenty of charcoal coals (or propane) for the day's needs, don't make the mistake of firing up the grill too early, and perhaps most importantly, let the grill do the cooking for you. With most meats – chicken, steak, burgers, sausage, you name it – you want to quickly sear the items on the "hot" side of the grill (that is, the side over direct flame), and then move them over to the "cool" side of the grill to finish cooking. To ensure heat isn't lost, close the lid and cook away (if you're cooking with charcoal, consider using a chimney starter or charcoal chute for more even results). And please, no matter what you do, never press down on your steaks or burgers!
That should cover you for food. But what about drinks? Well it should go without saying that you'll want to provide both alcoholic and non-alcoholic drink options. Not everyone drinks alcohol, and even those who do may want to skip. Soft drinks are an obvious choice for non-alcoholic beverages, but be sure to include some unsweetened (or lightly sweetened) options as well – black and green tea, fruit teas, juice, and water, for example. And skip the pre-bottled options, as they tend to be just as sugary as a soda. Instead, brew your own tea. You will find it's quick and easy, and your guests will appreciate it. For those looking for libations, include beer and wine options, of course, but also consider providing at least one signature party cocktail. After all, you are capping off the end of the summer!
Entertainment Options
Having some entertainment options on hand is a great way to satisfy everyone's needs and help ensure that nobody goes home bored. For any kids who are attending, consider offering up some classic board games, like Battleship, Chutes and Ladders, or Candy Land. And if you happen to own a video game console, such as a Nintendo Switch or PlayStation 4, hook it up and leave the controllers out – many of these consoles include game titles (like Mario Party, for example) that are designed for players of all ages. Thus, the teenagers and adults who have no interest in playing a child's board game will still have something to do.
It's also a good idea to have music playing, as it helps set a mood and fill in gaps in conversation. To make sure that everyone is happy with your selection, make a diverse playlist that covers all genres (well, perhaps not all genres; death metal and hardcore hip hop may not be suitable for everyone!) and time periods. If you're unsure what music to include, you can't go wrong with Top 40, classic rock, 80s pop, and 90s R&B. Just make sure that people can hear the music throughout the house, so that they don't have to congregate in one room. Thankfully, with portable Bluetooth speakers, the music can follow the party wherever it ends up. If you don't own any portable speakers, you may be able to get a great deal on JBL speakers through your wireless provider.
Start Planning. Start Partying!
Labor Day can be bittersweet. Yes, it's a day for partying (and a national holiday to boot), but it also commemorates the unofficial end of summer. Which means for many of you, colder, darker days are ahead. Nonetheless, it's a good excuse to spend time with friends and family, and to throw one last hurrah before fall and winter descend. So celebrate it with a grand party – just don't let yourself become overwhelmed or stressed out by it all. Follow these tips, and your party will run smooth as silk.
About the Author: Jennifer Thayer is a technology writer from Southern California. She is passionate about exploring new ways technology can be used to make day-to-day tasks easier. Follow her on Twitter.