Double Duty: Caring for a Toddler and an Infant Simultaneously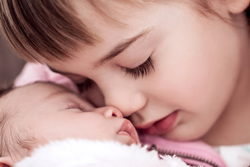 If you're already a parent, you remember the newborn phase – sleepless nights, exhausted days and never catching up on household chores. These were some of the tough parts mixed in with the joy of getting to know your new family member. And now that your first little one is a toddler and you're gearing up to have baby number two, the thought of caring for both of them at the same time might be daunting. Here are a few tips that can make all the difference in those initial weeks and months after your newest one arrives.
Establish Sleeping Routines
Whenever a newborn makes her debut, sleep is one of those precious commodities that often fall by the wayside. But if you're parenting two little ones, rest is what you need more than anything to maintain your health and to function properly. In order to help your baby and toddler fall asleep faster and sleep more deeply, create a naptime and bedtime ritual. Try to make the naptime routine different from the one you do at bedtime so your children can come to rely on the comfort and predictability.
A pre-sleep routine can consist of anything from singing favorite lullabies to reading a couple books. It doesn't matter quite what you do, just as long as it's calming and can be consistently repeated. For your newborn (until she's three months old), you can bring out the baby's swaddle that she'll soon begin to recognize. Swaddling your little one can improve infant sleep and reduce the risk of SIDS when you lay baby on his or her back. Start your pre-sleep routine around the same time with both your baby and toddler so they can sleep during the same block of time. You can rest once they are, or catch up on whatever you need to do that is most pressing.
Recruit Your Toddler
Another idea for making life with a newborn and toddler a little more productive is to include your older child in some of your household tasks. If you need to do laundry, put your infant in a baby swing and ask your toddler if he wants to be mama's helper. Set him up how you're set up, and give him his own pile of laundry to "sort." Even though he's young, you might be surprised at how much he can still help. And when he's not helpful. at least he'll stay entertained while baby swings nearby and you check things off your list.
Another way to involve your toddler is in taking care of the baby. Your older child will relish being relied on and included in activities, and you'll get a little much-needed assistance. If you buy diapers that come in different patterns, consult with your toddler whenever you need a new one. Asking questions like, "Do you think the baby would like the stars or hearts diaper this time?" This will give your little one the feeling that he's a big boy. Remember to keep him involved with other things too. Ask if he can bring you the baby's lotion or a washcloth, and then praise him when he does so. He'll be happy to be your little helper, baby will be extra well taken care of and you'll enjoy having a sidekick.
Find Shared Activities
If you're looking for additional ways to bond with your newborn and toddler at the same time, consider engaging in activities that both can benefit from. While your baby can't really participate in much this young, you can still bring her wherever you go with your older child. Invest in a baby carrier, like a Sakura Bloom Ring Sling, to keep her close to your heartbeat everywhere you go. Then find an activity like the Mini Music Makers event at a Musical Instrument Museum, or a similar interactive activity at a museum near you. Your toddler can shake rattles, bang on drums and march to the beat as he explores music with you. He'll love having your company, and you'll be able to keep him occupied with something educational while keeping baby snuggled against you.
Simultaneous care for a newborn and a toddler is no easy feat. But if you're strategic about it, you'll discover just how sweet it can be to bond with your two favorite tiny people.